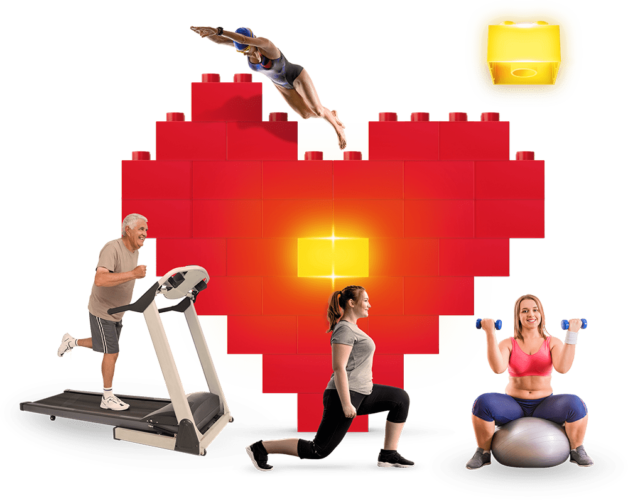 Building a

Happier Healthier YOU

is easy with
JOIN NOW & BUILD A HAPPIER HEALTHIER YOU
Enjoy gyms, pools, group exercise classes and so much more
FREE ongoing advice, guidance & support
When choosing Halo Leisure, not only are you investing in your own health, but you are actively helping to support your local community. As a registered charity & Social Enterprise, any profit is reinvested back into our facilities to help even more people get more active more often.
BENEFITS OF BUILDING PHYSICAL ACTIVITY INTO YOUR LIFESTYLE
Maintain a healthy weight
Meet new people & make lifelong friends
Improve your mental health & sense of wellbeing
Help prevent strokes, diabetes, heart disease +
BUILD A MORE ACTIVE
LIFESTYLE WITH
We're here for everyone to enjoy, whatever your age, gender or physical capability. Whether you are looking for fitness, friendship or community programmes, our aim is to support our customers to take practical steps to build activity into their daily lives.
READY TO BUILD A HAPPIER HEALTHIER YOU?
If you feel NOW is the time for you to say hello to Halo - Remember:
You choose how you move with gym workouts, pool sessions and group exercise classes etc
No Joining Fee
No Contract
All Halo centres are UKActive Covid-19 Response Approved
Halo is proud to be a registered Charity & Social Enterprise – any profit is reinvested into our centres to support our local communities and their physical and mental wellbeing – so when you come to Halo as well as feeling good you are doing good. #PeopleBeforeProfit
Membership Discounts available:
People on certain means tested benefits
People referred by their GP*
*available at Halo sites in Wales
BUILDING safe fun


exercise facilities and activities.


Find out what to expect when you visit
IT'S EASY AND QUICK TO JOIN.
Join online by visiting here to see our full list of membership options. Alternatively you can pop your details into the form below and a member of the team will be in touch to sign you up over the phone.